Claudio Parentela

Sono nato a Catanzaro(1962-Italia) dove vivo e lavoro, sono un illustratore, pittore, fotografo, mail artista ,collagista ,cartoonist, giornalista "free lance" sono attivo da molti anni nella scena underground internazionale. Ho collaborato e collaboro con tantissime zines,magazines di arte contemporanea , letterari e di comics in Italia e nel mondo. Sulla carta e sul web qualche nome tra i tanti: Komix.it,BrainTwisting, Lo Sciacallo Elettronico, Inguine, Stripburger, Lavirint, Komikaze, ConArt,The Lummox Journal, The Cherotic R (e) volutionary, Sick Puppy, Malefact, Gordo.it, johnmagazine, Abusemagazine, Zupi , Lamette, Chance, Lucid Moon, Que Suerte, Art Life, Pintalo De Verde, ApArte, Evasion, Germinal, Emozioni, Pockoville, lartmagazine, Stampa Alternativa, Synthesis, La Cafetiere Editions, The Benway Institute, Spartandog, Tryst , Passenger May, Phony Lid Pubblications, First Class, This Is Magazine, Diesel, Stu Magazine, hijacked, Mystery Island Magazine, Crane Magazine, Unwound, Crimson Leer, Moon Magazine, Staplegun, Funtime Comics, Untergruntblatte, Exposweb, Sekushi , Becoming Journal, alchimiadeldolore, Onthecamper, filosofem.com, Head Press, Entmoot, You&Me, Lartmagazine, Rorschach. I miei oscuri e pazzi lavori sono presenti ed esposti in tantissime gallerie nello sterminato e misterioso web, e poi ancora al "Girasole"(Villa Basilica) ,al "Tabula Rasa"(Barcellona), al Forte Prenestino(Roma), a Skorie Industriali (Roma), allo Spazio Aurora(Mi), alla Andenken Gallery (USA), alla Red Labels (Toronto-Canada), al "Sage Club" (Berlino) ,al "Panda Club" (Pistoia), al "Tenax" (Firenze), al "Teatro Studio" di Scandicci (Firenze), a "Ambasciata di Marte" (Florence), al "Klyk" (Firenze), alla "Galerie Slaphanger" (Amsterdam), a "La Casa Di Tolleranza" (Milano), a "La Cueva-NoArt Gallery" (Milano), a Torino con l'Associazione "Mind The Gap", alla "Pina Gallery"(Koper), alla"Diesel Gallery"(NY), al "Metaverso" (Roma).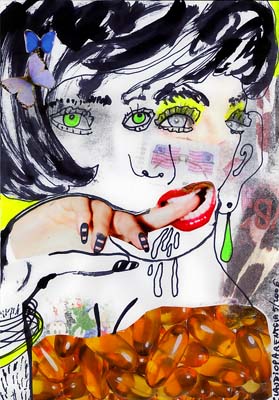 SENZA TITOLO
collage, china e acquerello
cm 21 x 30
2006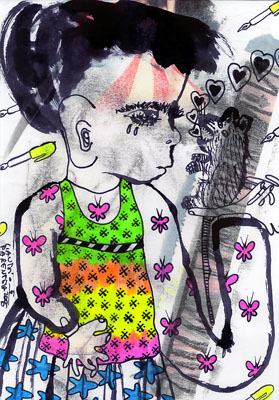 SENZA TITOLO
collage, china e acquerello
cm 21 x 30
2006

Faccio un sacco di mail art e partecipo a tutti i progetti di mail art di cui vengo a conoscenza. Ho collaborato e collaboro con tante bands di musica industriale, noise, experimental&electronic, harsh&death&metal gore-punx- Ho illustrato poesie e storie di Gavin Burrows, Harry Wilkens, Vittorio Baccelli, Claudio Morici, Alberto Rizzi, Cristiano Quadalti, Shannon Colebank, Gary Sneyd, Robert Smith, Michael Kriesel, Mark Sonnenfeld, Nathan Medema, Richard D.Houff, Ho disegnato insieme e a 4 mani con Gianluca Costantini, Elvi Athan, Marcel Herms, Kapreles Per editori vari ho realizzato alcuni booklets di illustrazioni e comics: Il Ratto Bavoso, e "L'Incubo Dimezzato" (Innovation Studio-B.G.A. Comix-Italia); "Fashion Robot" (David Lasky-Seattle-USA); "L'Agnello Sacrificale e la Salamandra Impiccata al Patè 666" (Medicina Nucleare-Italia); Claudio Parentela (Romantica Produzioni-Italia); "Storie" (Progetto Siderurgico-Italia); "Eudemoni" e "Piccola Trilogia Nera" (Poesie di Alberto Rizzi e di Cristiano Quadalti con mie illustrazioni-Criatu Produzioni-Italia); "Jeanne Dark you Got Balls" e "The Frogsí Ballet"(Autoprodotti); "Black Kisses and Other Stories", e "The Book of Secrets" (La Cafetiere Editions-Belgio); "Endless Tongue" (testi di Richard D.Houff e mie illustrazioni-The Benway Institute-USA); "Else Beds" (mie illustrazioni e poesie di Nathan Medema-JesusBunny Press-Canada).

SENZA TITOLO
collage, china e acquerello
cm 21 x 30
2006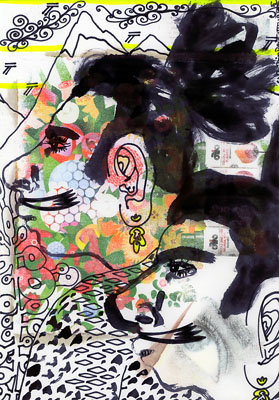 SENZA TITOLO
collage, china e acquerello su carta
cm 21 x 30
2006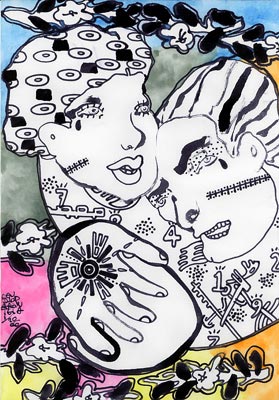 SENZA TITOLO
collage, china e acquerello su carta
cm 21 x 30
2006

Claudio Parentela
Posta elettronica: c_parentela@libero.it
Tel. 0961744087